A Brief History Of…
Launched in April 2008, with the simple philosophy of creating deliciously wholesome food, indulgent cakes and really great coffee, Basil quickly became a hugely popular addition to the St Johns area of Tunbridge Wells.
Following on from the success of "Basil 1", a second Basil was opened in Tunbridge Wells town centre in September 2012, followed by a third on Tonbridge High Street in 2015. All locations quickly attracted a loyal customer base, holding their own against the many high-street eateries.
In 2016, Basil invested in a 3,000 square foot bespoke production kitchen in the heart of Tunbridge Wells at 28A St John's Road designed and fitted by Hallmark Kitchens, Edenbridge.
Behind the scenes, the "Basil To You" business has grown from strength-to-strength, delivering Basil flavours to the board room, private parties and special events.
In 2018, we decided to take the Basil experience further afield, opening in Sevenoaks High Street. Make a date to visit soon!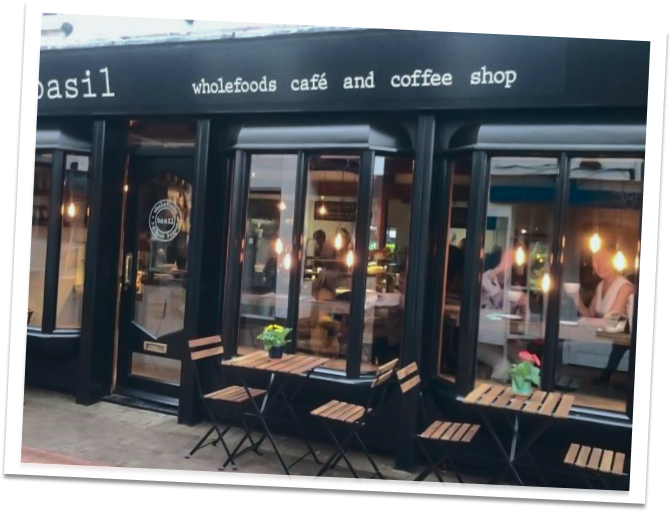 Here at Basil, we're passionate about creating a unique menu from the best ingredients… But what does this involve?
First of all, our raw ingredients are conscientiously sourced. All the eggs used in our cakes and quiches are free range. We frequently buy organic, but believe above all else in supporting local farmers, growers, bakers and butchers – we would much rather buy close to home than buy organic produce which has travelled from further afield.
Secondly, the best ingredients are always fresh and put together with care. Our dedicated team of chefs arrive at our Tunbridge Wells production kitchen at 5.30am every morning to prepare our wonderful array of salads, quiches and cakes. This ensures the products we deliver to you are vibrant, wholesome, fresh and nourishing. Amongst the prepacked offerings of many high-street cafes, we truly are "something different…"
Our coffee is roasted and supplied by John Street Beverage of Greenhithe, Kent. We have 3 coffee masters in the business who are jointly in charge of training our baristas, making sure we offer an outstanding coffee experience.
We are proud to stock a variety of Chegworth Valley Juices produced using fruit from orchards in Kent. The wonderful bread for our breakfasts and served with our soup is baked by Rusbridge Bakery of Southborough, Kent. Our gluten free bread is supplied by Belle and Wilde based in Sussex. Fuller's Butchers of Eridge, Kent supply the free-range meat used in our savoury dishes. Our fruit and vegetables are supplied locally from Oliver Greens of Rusthall, so we can guarantee you the freshest and most Basilicious menu.